4月24日,初中部九年级全体同学走进市人大常委会会议厅,参加 "走进人大" 模拟常委会议主题活动,这已是我校第四年走访上海人大。在这里,同学们亲临地方最高权力机关,模拟人大代表,亲身参与地方性法规诞生的过程,感受着我国根本政治制度的运行。
On April 24th, Grade 9 students paid a visit to Shanghai Municipal People's Congress. They not only brought their own motions to be voted but also learned more about China's political system. This is the fourth time that SUIS students have been here. It's where we've gotton the big picture of democracy in China, that is, all the power in the country belongs to the people who exercise their power through the National People's Congress and local people's congresses at all levels.
参观了人民大厦陈列厅、聆听了宣传处陆处长介绍人大制度之后,模拟常委会会议正式开始。今年我们根据八年级 "走进政协" 时支持率最高的垃圾分类提案,围绕 "垃圾分类" 话题草拟并讨论表决关于《上海市促进生活垃圾分类减量办法修正案(草案)》的议案。加快推进分类立法,也是今年上海城市环境治理中的最热点话题。
While making a brief introduction of our political establishment, Mr. Lu, head of the news office showed us around the exhibition hall. After that, we discussed and voted on the motion, submitted by the students last year – Amendment for Classification of Solid Waste and Solid Waste Management. This is the hottest issue elected through our student vote. Urban environmental management and governance is key to achieving sustainability and reducing vulnerability to disasters in Shanghai. The concept of environmental governance opens up a stimulating space to rethink innovative management approaches that involve a range of actors, institutions and interrelationships. It also provides an opportunity to reflect on topics, where agents are able to articulate specific arrangements and negotiation possibilities, ensuring that the good common prevails.
本次模拟常委会议由王孙子靖同学主持,郭菁怡同学作议案的说明。会议上,禹泽轩、王文海、张祺翎鹂等15位"委员"分别就生活垃圾基本分类标准的调整、中小学垃圾分类知识进校园、市民垃圾分类宣传、加大违反垃圾分类的处罚力度等发表了自己的见解。
禹泽轩、高梓安、金伶美、黄诗仪代表认为垃圾分类应该要政府推动、全民参与,利用互联网+手把手的指导市民垃圾分类的步骤和方法,并对积极践行垃圾分类的个人和单位予以物质奖励和媒体报道,开通投诉举报渠道,获得市民认同感。
王文海、张祺翎鹂、姚子欣、杨依霏、张昱琳代表建议垃圾分类标准必须要统一,收集容器的名称也必须统一,建议调整为可回收、不可回收、厨余垃圾和有害垃圾四类。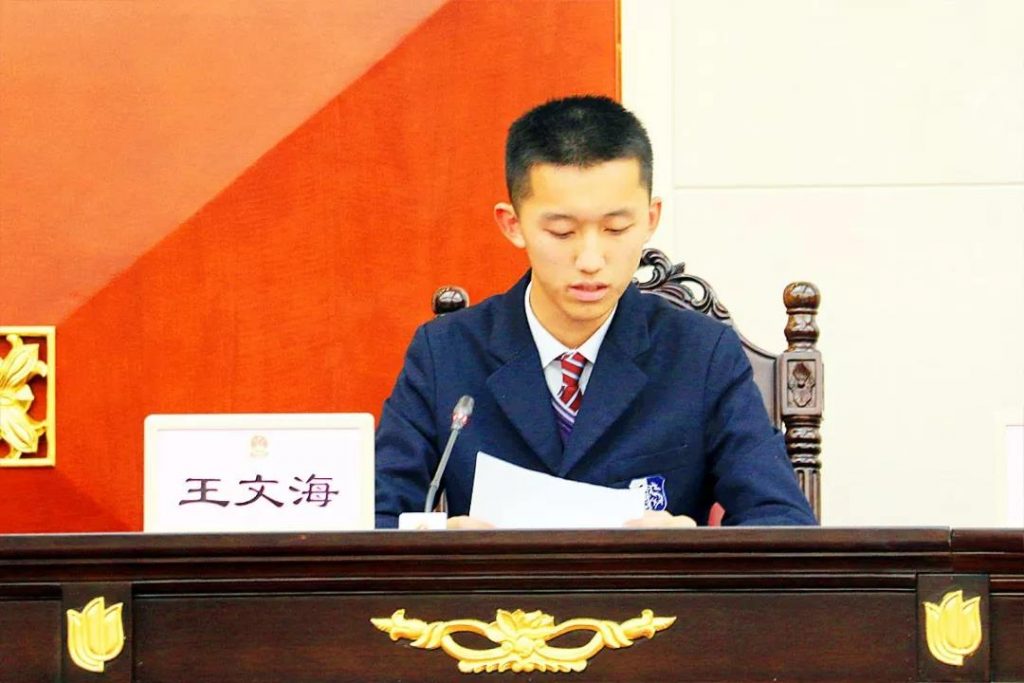 唐玺程代表建议幼儿园、小学、初中、高中每学期在校园内至少开展一次垃圾分类专题教育活动,教师和学长应成为学生垃圾分类的监督员。
陈骏天、刘诗萱、杨依霏代表对违反规定的处罚处理作出建议,如屡次不改正的个人和单位的罚款做叠加,增加电子化管理系统对垃圾分类进行监控。
华曼云、沙蕴、徐乐康代表认为可以借鉴一些国家的做法,对企业、餐饮店、旅店等欺骗性过度包装物减量上作出规范,力求达到减量最大化。
全部发言讨论结束后,最终会议以35票赞成、17票反对,通过了《上海市实施上海市促进生活垃圾分类减量办法修正案(草案)》。
据悉,市人大常委会已将《生活垃圾管理条例》列为正式立法项目,计划今年9月提交常委会一审。
走进人大是初中部思品学科的社会实践主题活动之一,走进政协和走进人大已形成了完整的走进两会系列,在体验政协委员和人大代表的履职过程中,学生跳出课本与教室,学习国家制度、培养公民意识、法治意识。今天,我们是这里的客人,明天,我们将会成为社会的主人,更好的法治社会需要我们这一代努力去完善。
尽管会议已结束,但我们的成长仍在继续。社会也在和我们一同成长,我们也期盼着不久的将来城市垃圾分类的真正实现全覆盖,在此向大家呼吁从我做起,积极参与,做好源头分类工作,共同创建我们美好的绿色家园!
The visits to Shanghai Municipal People's Congress and the Chinese People's Political Consultative Conference are part of Museum Education in Middle School, the extension to moral education, where learning goes beyond textbooks and classrooms. It offers students great opportunities to raise civic awareness, legal awareness and democratic awareness. Today we are the guests here and tomorrow we are likely to be the masters there. What we must do now is to find our own life path to follow. We must figure out which direction to steer our life and our society as well. Shanghai urban environmental governance refers to the processes of decision-making involved in the control and management of the environment and natural resources in this charming cosmopolitan city. It takes efforts made by generations to fulfill our mission and to make the world a better place.