在六一到来之际,上海民办万源城协和双语学校的二年级同学们戴上了期盼已久的红领巾。全年级251名学生齐聚一堂,迎接这个属于自己的盛会。
In preparation for the arrival of Children's Day, the Grade 2 students of SUIS wore the long-awaited red scarf. The 251 students of the whole grade gathered for their own grand gathering.
大会在隆重又庄严的气氛中拉开序幕,现场的同学们一个个都目光严肃,期待着这一刻的到来。会上,大队辅导员周老师宣布了本次加入少先队的同学名单,随后,在专程到来的三年级的哥哥姐姐的帮助下,大家依次戴上了鲜艳的红领巾。
The conference started in a solemn atmosphere. All the students were serious and looked forward to this moment. The Pioneer Group Leader, Mr. Andy, announced the list of students to join the young pioneers, and the Grade 3 students also come to help the Grade 2 students to wear the bright red scarf.
少先队是让人值得骄傲的,三年级的同学带来了前辈们的祝福。同时,小学部主任陈洁老师也带来了她对大家的期盼:大家戴上红领巾,马上就要从二年级步入三年级。愿快乐和进步与你们同行,做最出色的你,成为最棒的少先队员!
The young pioneers are worthy of pride. The students of the Grade 3 passed on the blessings of the seniors. At the same time, Ms. Jessica, the director of the primary school department, made her expectation clear to everyone: Everyone wears a red scarf who is about to enter the third grade from the second grade. May happiness and progress be with you. Be the best YOU, and be the best young pioneer!
同时,6月1日,2018 Talent Day performance(暨G4才艺秀)在万源城协和双语学校的大剧院拉开序幕!
On Jun. 1st, the 2018 Talent Day performance (and G4 Talent show) begins at the grand theatre of SUIS.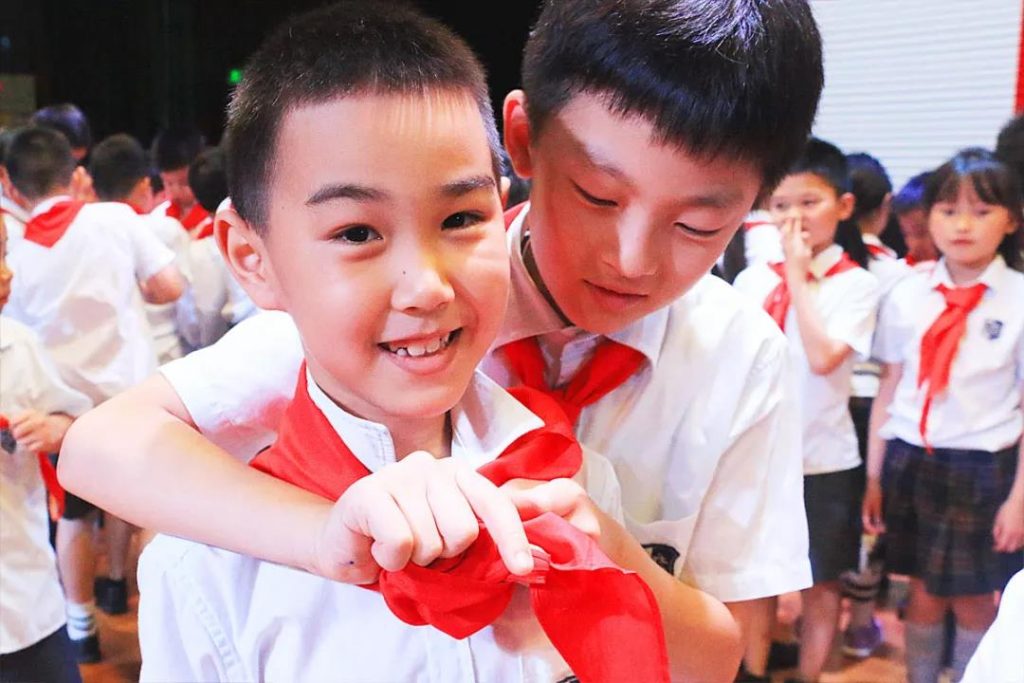 一开场,精彩的葫芦娃们就带动了全场的气氛,让整个会场在一瞬间就变成了节日的海洋,同学们将卡通形象放到了舞台上,可谓精彩万分!
During the wonderful opening all the characters were animating the atmosphere, making the whole room become an ocean festival in a flash. Our students made the cartoon images on the stage, and it's so wonderful!
乐器独奏是个人能力的展示,同学把对音乐的理解和感悟,将《海顿奏鸣曲》、《塞姿第二协奏曲》、《童年》和小手鼓,结合新疆舞,通过钢琴和吉他等乐器,完美地诠释给了在场的观众们。
Being able to display a solo instrument is a personal ability. The students showed the music understanding and comprehension through playing "Haydn sonata", "the second concerto plug appearance", "childhood" and some tambourine. They were combining Xinjiang Folk dance, with the piano and guitar and other Musical Instruments. The audience was shocked (in a good way) by the performance.
同样,除了用乐器表现音乐之美外,独唱依然是可以震惊全场的表演。三位孩子的独唱和校合唱团轮番登场,让整个大剧院的乐声久久回荡。
Also, in addition to the beauty of music with instruments, solo singing can still astonish the audience. The three children's recitals and the school choir performed in turn, making the whole theatre reverberate for a long time.
除了音乐之美外,动感同样是现场的话题之一:无论是惊险又酷炫的轮滑舞,还是充满力量的中国功夫,给我们展现了协和的孩子们无比自信又骄傲的一面。
In addition to the beauty of the music, there were many other talents to witness: whether it is breathtaking and cool dance or roller skating or powerful Chinese Kung Fu, they showed us that the children are very confident and proud.
最后一个节目,四年级的孩子们将自己最有魅力的一面展现地淋漓尽致。今天,他们带来了自己精心设计的时装,在我们六一才艺秀的舞台上展现了一把自己设计的服装,让全场的观众们目瞪口呆。
In the last show, fourth-graders showed their most attractive side. Today, they brought out their elaboratly design fashion and let all the audience be stunned.
一年一个音符,一年一级台阶,多么快乐的童年生活,多么快乐的"六一"。万源城协和双语学校的孩子们通过才艺秀,展现出了自己的魅力,展现出了整个校园的风貌,最后,感谢所有表演者的倾情演出,我们下次见!
One note a year, one step a year, what a happy childhood life, what a happy Children's Day. SUIS Students showed their shining points through the talent show. In the end, thank you for all the performers at performance, and see you next time!